Hello everyone! How are you? How's it going?
I hope all of you had an amazing holiday and enjoyed your time off from school! Now that school and classes have begun, I wish all of you an amazing new semester and that this New Year brings you happiness in every way possible!
As for my break, it was awesome being able to see all my friends and family along with catching up with everyone. I did spend most of my time helping my mom out at her nail salon and, of course, got many questions about college. It felt like every second I was being asked: "Have you decided what you want to major in?" "How are you liking it?" "Is your roommate nice?" I really thought about just typing up a paper with all the answers on it and handing them out to everyone that started to ask me questions. I also spent a lot of my break being the family uber by taking and picking my siblings up from school, running errands for my mom, and driving my mom around.
The best thing from break was that after many, many, maaaaaaaaaaany years of me asking my mom to let me dye my hair, she finally said yes! I was super excited and two days before I left to come back to LC, I went to get my hair done. It was absolutely amazing to see my hair in such a different way since my hair has always been the typical dark brown hair.
My new hair!
So
new year, new me?
Anyways, coming back to campus has also been super fun! While I do miss my friends and family from back home, coming back did feel nice. I was so happy to see all the wonderful friends that I have made here and being able to see my dorm again made me happy!
Today was also the first day of classes and I only had one class today at 12:50 PM but for some reason my body woke me up at 5 AM and would not let me go back to sleep! Tomorrow is going to be hectic since I have a full schedule tomorrow and I'm kinda nervous since I haven't memorized all the room numbers from my classes yet (I'll eventually get to remembering it)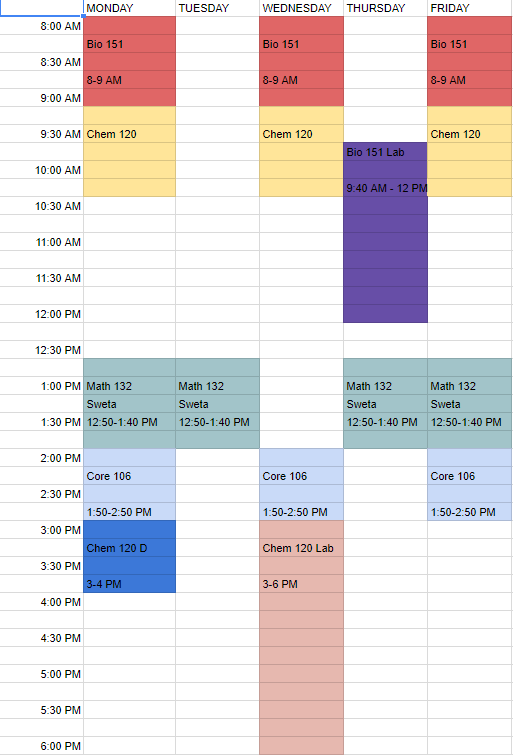 Schedule this semester!
This weekend is also MLK Service Day and I am so excited to be volunteering with the Oregon Humane Society and working with shelter dogs! I absolutely love community service and I have been missing when I would be volunteering every weekend!
It is getting kinda late so I am going to end this post here! I apologize that my posts have been boring lately but I will try my best to spice them up a little bit more and try to post a vlog here and there that way there is a bit more of a variety! Anywho, I hope you all have an amazing first couple of days back at school and remember to always take care of yourself!
If you have any questions or just want to talk, you can reach me at:
jessicadoan@lclark.edu
Here's the quote of the week:
"I will love myself despite the ease with which I lean toward the opposite." - Shane L. Koyczan
♥ Jessica